James Druiett – "The Bio" – Drums
Visit Me On MySpace! – myspace.com/presley72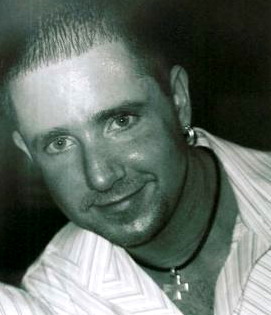 Well folks… If you have stumbled across my BIO here on our web page, I feel I owe it to you to give you a little inside information about myself and whatnot. Where do I begin? Well let's see… I was born in Edison, NJ… sometime in the 1970's when my parents were living in Metuchen, NJ, but by the time I was around three or so, we relocated to Manasquan where I went to Kindergarten, First, and Second grade, before finally settling in Point Pleasant. My father is a singer/songwriter who spent the majority of his time gigging around central and south Jersey, as well as New York and on occasion, traveling around the country. The name of his band is Jimmy & the James Boys and over the years, had a significant amount of success both on a local and national level. I guess that's how I got into the whole music thing as a young kid. My father had rehearsal space in our basement ever since the time I was able to walk and I always found myself messing around with something. It was usually the drums because they were pretty much the only thing I could make any noise with and I was too small to hold a guitar or coordinate myself to hold a horn or something. Plus, it seemed like I had a knack for the drums since the first time I sat down at them. It just kinda came naturally. So as time went on, I kept pounding away and not even realizing it, getting better and more coordinated and was actually able to play by the time I was around four or five years old. Sometime around that point, I made my first night club debut with my father's band. My mother brought me to one of their gigs and I actually sat in and played a couple Beatles tunes. I was probably between six and seven at that point and I can remember after I got done, some guy came up to me and handed me five bucks and told me I did a great job. I know it seems strange, but I can remember thinking "Wow! What a racket! Play the drums and get money!!!"
Ok… Fast forward to my Junior and Senior years in High School. I had kept playing as I was growing up but never really got in my own band or anything until I was a junior. I never joined the school band either as it just wasn't my thing. At that point I hooked up with a couple of guys I knew at school who already had a band but were looking for a drummer. So I went to a local rehearsal studio where I auditioned and got the gig. I was like totally stoked! I thought we were gonna get real good, learn a lot of cool songs, as well as fine tune the originals we had come up with, and start gigging all over. Unfortunately, it didn't work out that way. We played a few gigs here and there and rehearsed a whole lot, but now looking back at it, the guys in the band were not really that serious about being musicians on a professional level and over time, it just fell by the wayside and we ended up going our separate ways. So by the time I had graduated high school and got a fake ID, I started going to see a lot of bands locally, and knew some of the guys in the bands here and there. I would sit in with them from time to time and tried to make a name for myself in the event one of these bands ever needed a drummer. As luck would have it, a real good drummer friend of mine by the name of TJ was playing in a band called The Kooks and I had started going to see them a lot and sitting in with them as well. After a while, he had decided to leave the band to play in another one and they needed a drummer. By that point I had become pretty tight with the rest of the band and they offered me the gig. I was floored! We were gigging at a lot of local bars, doing colleges, private parties, and just having a great time. Everything was going real god for a few years, but unfortunately, the singer decided to move to California and before I knew it, we were playing our last show. I tried to keep things going, but it just wasn't happening and I found myself bandless.
By this point in time I had come to know Mike Dalton through some mutual friends and one day I was sitting around contemplating what to do about the "no band" situation and decided to give him a call. I just wanted to let him know that I was available in the event he knew of any bands looking for a drummer. Little did I know that his drummer had just given his notice and was leaving the band. I can't remember how exactly, but shortly thereafter, I ended up going to see the Mike Dalton Band at "Bar-A" and was invited up to play a song. Prior to getting up on the stage, I had found out through the "grapevine" that this was actually an audition to join the band! As you could imagine, the nerves, sour stomach, and basic freak out immediately took over and I was flipping out. But I sucked it up, got on stage, played the song, and had a great time. Over the next few days, Mike and I were in contact with one another and he asked me if I would like to join the band. I told him "sure". On the inside, I was totally bouncing off the walls and couldn't believe it! Talk about being in the right place at the right time!
So now I am in my 9th year with the band and I am still as excited to play every show as I was when I first joined. It's not something that I take for granted or don't appreciate either. Sure I have my up and down nights, good moods and bad moods, but wouldn't give it up for ANYTHING. People ask me "How can you not be able to go away on the weekends or go out with your friends on a Friday or Saturday night?" My response is always the same. "If I wasn't playing I would be miserable." Sure we have a night off here and there and to be able to go out and hang with friends is always a good time. But most of the time, I find myself wishing we were playing a gig and putting on a show for the people who have come to see us over and over throughout the years. Old fans and new ones as well! I guess it's just in my blood. So for those of you who ask me "How long do you plan on doing this for?"… again, my answer to that question is always the same. "Until I am totally and completely physically unable to play!" So as far as I am concerned, as long as you keep coming to see us and enjoy what it is we do, I'll still be there pounding away all night long, night after night, indefinitely!
Peace Out!
James Druiett 😉
To Contact Jim : presley72@comcast.net

---
Jimmy's  Favorites :
Originally from : Point Pleasant, NJ
Music tools: Drums (And a little guitar)
How long have you been playing these tools?: Drums – "Since age of 3″… Guitar – "Current work in progress"
Musical influences: Neil Pert, Lars Ulrich, Eddie & Alex Van Halen, Dave Grohl, Taylor Hawkins, Chad Smith
Current favorite bands/artists: STP, Foo Fighters, Metallica, Pearl Jam, Pink Floyd, The Beatles, The Allman Brothers, Mike Dalton Band
Short Term Goal: Continue to learn and develop my guitar skills…
Long Term Goal: Go on an arena or stadium tour playing for thousands of people night after night!
CDs currently in car: Pear Jam, Foo Fighters, Metallica, Audioslave, Incubus, Paul Mcartney, Pink Floyd, Aerosmith, STP, Allman's, Mike Dalton Band
Favorite Color: Black & Silver
Favorite Food: Italian
Favorite TV show: Seinfeld, Prison Break, 24, CSI Miami, Scrubs, CSI New York, Sopranos, Friends
Favorite movie: Star Wars Series, Die Hard Series, Armageddon
What book(s) are you reading right now? Not a one!
Favorite Magazine: Maxim, Modern Drummer
Favorite Smell: Summer at the Jersey Shore.
Alcoholic Beverage: Grey Goose Orange and 7-UP
What do you think about?: All kinds of shit!
What do you do in your spare time?: For me to know and you to find out!
Coolest Thing You've Ever Done: Sat on the stage, (in a rocking chair), at Jones Beach during an STP show. Partied with the band all day, pre & post show! Totally fucking rocked!