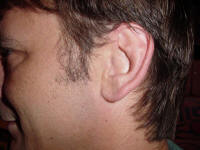 Hi, I'm Eddie the guitar player in the band. I've been playing since I was 10 and have been in a variety of bands doing covers, originals, wedding stuff and even classical music. I started out learning the Allman Brothers, the Band and Bob Dylan and worked my way through Van Halen, Stevie Ray Vaughan, Jeff Beck, David Lindley, the Eagles, Jackson Browne, Dada, Henry Rollins and back again. I'm into all kinds of music, and especially like good lyrics. I'm very much into all aspects of music, playing, trying to write things and figuring out how the music communicates. I'm not into music equipment any more than I've finally got a good sound I like, when I don't like it maybe I'll go to a music store. In the end, I'm still trying to improve and seek out new musical experiences.
I was born in the majestic fall of '74 to the sound of Foghat and falling leaves. The Gods bestowed upon me musical ability unheard of in the trailer parks of North Dakota. I was a natural at several instruments, some of which didn't even exist at the time. I studied the great manuscripts of pre-Bono Scotland, and was even arrested for stalking Tom Jones.
After making my pilgrimage to the Castle Windmill, I knew my destiny, to play with the unbound passion and lack of musicality of those Irish Demigods whose name I can not speak. Although only a novice with hair gel, I have had the excellent opportunity of studying the musical dexterity of Mike Dalton whose physical prowess on stage can only be described as a cross between Richard Burton and Tom Arnold. Mike avoids the frivolity of tuning and packs almost 30 minutes of entertainment into each 2 hour show.
---
Eddie's Favorites :
Originally from: Lakehurst and Jersey City at the same time
Music tools: Jigsaw
How long have you been playing these tools?: Since I got bored with the hammer
Musical influences: Wolfman Jack and 70's AM radio.
Current favorite bands/artists: Band: Steely Dan Artist: That guy on PBS.
Short Term Goal: Live long enough to achieve my long term goal
Long Term Goal: 3 hour nap
CDs currently in car: Spinners Greatest Hits, Adam Sandler, Warren Zevon My Ride is Here
Favorite Color: Mauve
Favorite Food: Seafood
Favorite TV show: Curb Your Enthusiasm
Favorite movie: If Lucy Fell
What book(s) are you reading right now? Follow the Music by Jac Holzman
Favorite Magazine: Rolling Stone, Men's Fitness
Favorite Smell: Asparagus
Alcoholic Beverage: Chocolate Milk in a Red Solo Cup with an umbrella
What do you think about?: The Pickands–Balkema–de Haan theorem
What do you do in your spare time?: Fill out questionnaires
Coolest Thing You've Ever Done: Drove the train from Belmar to Point Pleasant, yes I was the engineering at 12.
---
Eddie Carson – His Ride To The Stars
By: Maddy Soto
Eddie Carson is an eclectic/electric guitarist, born in Point Pleasant, NJ, during the hectic 60's. A somewhat energetic artist with an affinity towards music, the adolescent Eddie turned his interest to twin passions, the trumpet and bass. At the age of 10, Eddie was probably the worst trumpet player of all time for ninety days, to be exact. At that same time, he turned to the bass because, "it looked cool and had only four strings," but, again, the ride was all-downhill.
Eddie then chose to get serious by purchasing a $21 acoustic guitar, his strongest choice to date, as well as his favorite. He took lessons day and night throughout the next years, studying classical guitar for a total of four years with the distinguished John Spoulos. When Frank Hughes, his mentor in music theory class back in high school, stepped back into his picture, he strengthened Eddie both in mind and skills, serving as a major influence in Eddie's career for decades.
But Eddie believes his most fiery education and talent development was by picking notes off albums from the famous Allman Bros. "Live at the Fillmore East" and The Band's "Rock of Ages". "Most all of what I do is probably a hybrid of those licks."
Eddie hit the stage back in 1984 playing everything from Sinatra and Motown and now plays a diversity ranging from the Beastie Boys to Rage Against the Machine. His amazing skill is so admired and held in awe that it generated a never-ending buzz among local audiences and built Eddie a solid NJ fan base.
Loyal to local venues, Eddie continues to play about 200 shows a year. His dream is to play a lot of original music, and along those lines he has recorded independent CD's with Art Seville, Rudy and the Eastern Lights, and, most recently, with Mike Dalton. Mike and Eddie are currently doing acoustic shows every Wednesday at The Sandbar in Brielle, NJ and in the past year, Greg Felise has joined them, making the duo a standout trio.
Eddie is currently heavily involved in different projects, writing and recording with other artists, but his highest aim now is to, "do the guitarist/producer thing ala' Danny Kortchmar." To Eddie's surprise, his aim might prove true!