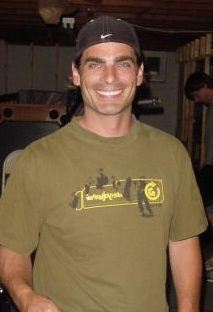 Nick Massaro – Bass
Originally from: Long Branch NJ
Music tools: Bass
How long have you been playing these tools? I'm a Musician, I can't count that High.
Musical influences: John Paul Jones, Billy Joel, Beatles, Beach Boys, Elvis, and Anyone that I have ever jammed with.
Current favorite bands/artists: Bands: Hoobastank, Green Day, Maroon Five, The Used Artist: Jason Mraz, Jack Johnson, G. Love
Short Term Goal: To make Mike, better than he ever has been
Long Term Goal: To go up, Not down
CDs currently in car: AM/FM Radio
Favorite Color: Green
Favorite Food: Any Happy Hour Spread (being that it's FREE)
Favorite TV show:
Sportscenter, Chill'n & Grill'n w/ Bobby Flay, Weather on the 8's, Sponge Bob
Favorite movie: The World According to Garp, Shawshank Redemption, The Sure Thing
What book(s) are you reading right now? – Bassplaying for Dummies, Trump-How to get rich
Favorite Magazine: Blender, Highlights, High times
Favorite Smell: Skunk
Alcoholic Beverage: Beer, Jaeger (Chilled)
What do you think about? hmmm. Let me think about it?
What do you do in your spare time? Be a Dad.